There are 300,000 organizations and 115 million active users on Microsoft Teams every day. If you're one of them, you may wonder what efficiency gains or helpful new functionalities you could unlock … if you just knew what the experts know.
Look no further: These power-user moves will help you get the most from the software. Implement a few at a time, and before long, you'll be harnessing the full power behind this surprisingly versatile platform.
First, let's briefly touch on the product itself. What Is Microsoft Teams?
Teams is a chat-based collaborative workspace that features group and individual messaging, voice or video calls, and file sharing. Like other messaging services, Teams messages can incorporate emojis and GIFs.
Think of Microsoft Teams as a social media site for your internal team.
It's organized into groups of invited people who get to collaborate through chat, document sharing, and real-time video conferencing, while the platform organizes all materials that go with them. You can create any number of channels (the places where you chat and share files) for your organization. (More on this in a moment.)
Microsoft Teams has become so popular due in large part to its inclusion with Microsoft 365. At no extra cost, you get a messaging app that lets allow you to create and integrate with over 600 apps, including the entire Microsoft Office suite.
Even without Microsoft 365, signing up for a free account gets you unlimited chat messages and search, audio and video calling for individuals and groups (capped at 60 minutes per session), 10 GB of team file storage, and 2 GB per person of individual storage. Of course, cloud-based Microsoft 365 is a powerful platform that almost every business today takes advantage of, so in most cases, you most likely already have Teams in place!
Top Microsoft Teams Tips and Tricks
Knowing how Microsoft Teams works is one thing. Knowing how to use it well is another. Fortunately, there are plenty of smart tricks experienced users rely on to make Teams more effective and efficient.
1. Use Keyboard Shortcuts
Keyboard shortcuts are a secret weapon to speeding up the most common tasks. It can take a while before you feel like you know your way around these essentials, but once you do, it becomes less than a second's work to perform a command, instead of fumbling for a menu.
Here are some important keyboard shortcuts to get started:
Search: Ctrl+E
Turn off camera: Ctrl+Shift+O
Mute: Ctrl+Shift+M
Background blurring: Ctrl+Shift+P
Open your files: Ctrl+6
2. Search Through Your Conversations
Search will become an indispensable feature as you produce more and more content and start to forget where you put those work projects!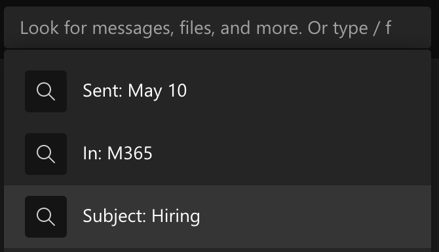 After you type in what you want to search for and hit Enter, the search results will appear in the pane on the left. Switch between People and Files by clicking on the tabs. This will cover group messages and individuals.
Sometimes you need more than just simple search, which is where integrated Keyword Query Language (KQL) for more advanced searches in messages comes in handy. Here are the keywords Teams supports to boost your searching power (remember not to add a space between the colon and the search terms):
"From:" then enter the person's name
"In:" then enter the channel or group chat name
"Subject:" the keyword from a message or a subject line
"Sent:" the date the message was sent
3. Search Using Shortcut Commands
Another way to get the most from your search box is to enter the forward slash symbol. This displays a drop-down menu of available commands, such as /saved. Choose this command, and Teams displays a list of messages you have saved.
Choose /org and you see someone's org chart and where this person falls within the organization. See a full list of available commands.
4. Send and Filter Messages Using @mention
Here's a powerful shortcut to save you some time. Typing the @ symbol into the search bar at the top will bring up the name of the colleague you're looking for, and allow you to immediately message them directly.
You can also use @mentions in reverse, filtering messages and alerts sent to you! You can find @mentions by hitting Filter and choosing it from the drop-down menu while you're in the Activity feed.
5. Avoid Being Disturbed
Sometimes you might simply want to filter out distractions so you can give your full attention to the chat at hand, with no worry of being disturbed by alerts.
To do this, just select your profile picture (top right corner) and then select the Notifications tab to change the type and frequency of your alerts.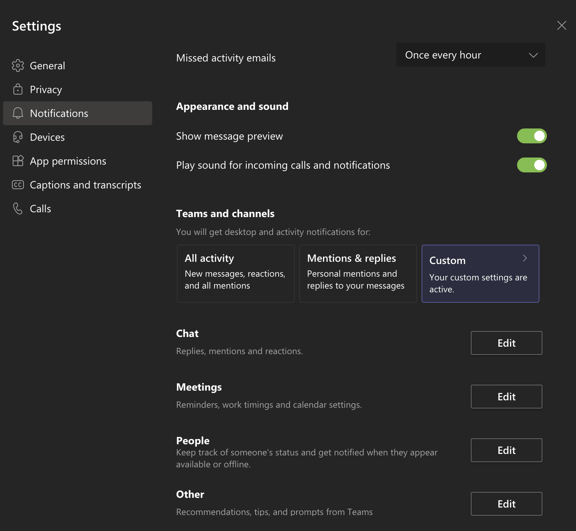 6. Make Your Chats Searchable
No one wants to dig through thousands of conversations to find that one message you need. Teams takes away this frustration by allowing full customization of your chat titles so you can find them in the future. Simply hit the pencil at the top right of your chat, and rename it accordingly!
7. Get a Better Background
We don't all live in beautiful, picturesque scenic areas. Sometimes you've got no choice but to take that video call in a less than perfect space.
Blurring your background can help add professionalism and keep your personal life personal! To do this in a call, select the audio and video settings screen, then the ellipsis (…) then Blur my background.
If you'd rather use an image instead of blurring, go to the same location, but select Show background effects to see a sidebar with some pleasant background images.
8. Use GIFs to Build Cultures
Company culture is an important building block of success. GIFs and custom reactions may seem superficial, but the shared laughter and cultural references — the "inside jokes," essentially — can help staff to feel a greater sense of belonging, which is important at a time when remote working has kept them apart.
Just select the GIF button below your Type a new message box and enter a keyword to find loads of GIFs.
9. Translation
Translating any message in a foreign language is one simple click away. Hover over the message you need to translate, click the three dot ellipsis (…) and select Translate.
While not always perfect, Teams does include video call translation. You can add captions in multiple languages using the Translate to menu, and attendees can turn on captions by clicking Subtitles On in the right side of their screen.
10. Use SharePoint
SharePoint, the Microsoft platform for securing and sharing files, is already integrated into Microsoft Teams.
Clicking on the Files tab lets you share files with other Team members using SharePoint. If a file has been shared to a Channel, people on your team can use Office Online or one of its desktop apps to collaborate on it.
11. Email Forwarding to a Channel
Email may have fallen out of fashion for quick communication, but email still exists and lots of people use it every day. Thankfully, forwarding an emails to any Microsoft Teams channel is easy.
Next to the channel name, click the ellipsis, then Get email address. Now your group has an email address that you can forward messages to!
12. Send Urgent Chat Notifications
This is the digital equivalent of banging loudly on an office door. To send an urgent message notification, look below the text compose box and you'll be able to check Urgent or Important to add either of these words to the message and grab the recipient's attention.
Mark a message as urgent, and once you've sent it, they'll get it every two minutes for the following 20 minutes, which should make it hard to ignore.
13. Save a Message for Later
Sometimes you need to focus on a project, and flag a message to come back to later.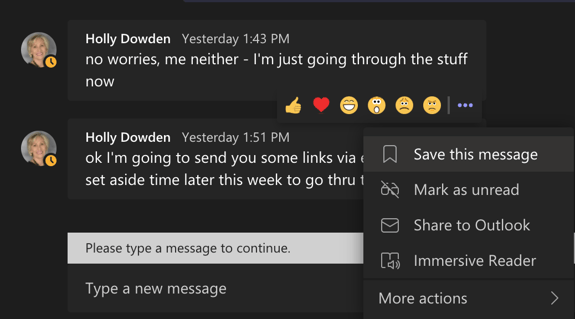 Just hover over any message and click the ellipsis (…), then click Save this message. You can easily find your saved messages by typing /Saved in the search box. Once you see your results, you can also un-save messages via the bookmark icon that appears in the top right of each message.
14. Invite Everyone to a Team
Microsoft Teams makes it easy to send messages to everyone in your organization. To add them to a team, just:
Visit your Teams list.
Click on Join or create a team (bottom left corner).
Click on Create a team.
Click on Build a team from scratch.
Click on Org-wide.
Type your team name and click Create.
This team now includes everyone—apart from guest users — and when you add or remove users from Microsoft 365, their presence in Microsoft Teams will be updated accordingly, too.
15. Conduct Polls
Gathering opinions can be tedious, but Teams makes polling them a breeze. Just click the Forms icon under the message box to create and send a poll in Microsoft Teams. You can then create your poll.
Type your question and the answer choices. For multiple answers, click on the Multiple answers toggle. You can also Share results automatically after voting and Keep responses anonymous. From there, simply click Send.
16. Ask T-Bot for Help
T-Bot is Microsoft Teams' dedicated help robot. Click Chat, and you'll see T-Bot. Click on it, and you can start typing questions (or just keywords) to get instant answers. If you just want to browse, you'll also find answers under the Help, Videos and What's New tabs.

17. Create Private Channels
Some things are best kept on a need-to-know basis, so this feature lets you create new channels within a pre-existing team for private collaboration or sensitive discussions. Look for the lock icon to see if a channel is private or not.
18. Immersive Reader Mode
Microsoft Teams features an immersive reading mode that lets you read messages without distractions. You can also set fonts, colors, and spacing to get the reading experience you want. You can find the Immersive Reader option by clicking the ellipsis.
This feature can also read your messages out loud. Just click play, and reading will begin from the top of your message unless you select another start point. You can adjust playback speed with the slider.
19. Download Meeting Transcriptions
Meeting notes can be useful, but taking them can be a major chore.
With Microsoft Teams, you don't have to! Once the recording of your meeting is ready, click on the ellipsis and open your video in Microsoft Stream. Open the next ellipsis you see, and click on Update Video Details. Choose the Video Language section, click Autogenerate a caption file and click Update.
Once the process is finished, you'll be able to download your transcription of the meeting from the Microsoft Streams section.
20. Chat With Non-Users From Within Teams
A great feature of Teams is being able to message others on different platforms like Slack or Cisco Webex. This feature does require you to sign up with a Mio account, but then you'll be able to seamlessly message clients and your external contacts who are on Slack or Webex, and with GIFs, emojis and message functionality.
21. Adding Tabs to Channels
Last but not least, tabs let you quickly connect users with important documents in Office or third-party apps.
To add a tab to a channel, Select "+" at the top of the channel, select a tab and follow the steps. The tab will appear at the top of the channel.
To turn an office file into a tab, you'll need to upload it to the team's Files tab or attach it to a chat message so it happens automatically. Once you pick your app, it'll give you an array of files to choose from.
How to Make Microsoft Teams Secure
Microsoft Teams is convenient and powerful, but is it secure?
There are multiple layers of encryption at work within Microsoft 365. Encryption in Teams works with the rest of Microsoft 365 encryption to protect your organization's content.
End-to-end Encryption
For situations that require heightened confidentiality, Teams offers end-to-end encryption (E2EE) for one-on-one calls. With E2EE, call information is encrypted at its origin and decrypted at its intended destination so that no information can be decrypted between those points.
During an E2EE call, Teams secures the following features:
Audio
Video
Screen sharing
Teams data is encrypted in transit and at rest in Microsoft data centers using industry-standard technologies, such as TLS and SRTP. This includes calling, messages, files, meetings, and other content. See Encryption for Teams for details.
Initially, E2EE is available only for one-on-one Teams calls. But after gathering customer feedback to understand how the feature addresses their compliance needs and obligations, Microsoft is going to work to bring E2EE capabilities to online meetings.
Office 365 Defender
Office 365 Defender is an optional add-on licensing structure within Office 365 to enable higher security within Teams itself, as well as within other applications within Microsoft 365 suite. Office 365 Defender:
Reduces the amount of spam you receive
Protects you against the consequences of clicking on malicious links
Defends you against phishing attacks
Allows you to attach files safely to chats
Defends all users from malicious links that get shared through chats and files
Protects you against malware in attachments
Microsoft Teams Is More Than Just a Collaboration Tool
Microsoft Teams not only offers easy collaboration, but it also provides convenient access to all files within an organization and integration with a long list of useful and popular apps. The tips and tricks covered here provide a taste of what's possible.
To learn more about how Ntiva can be a vital partner in helping you harness the power of Microsoft Teams, read our guide, "How to Choose a Managed Service Provider: Expert Advice from Top Business Leaders."